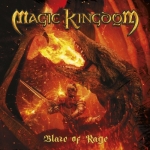 Interview
FOREVER STILL (2019 - English Version) - Maja Shining (Vocals)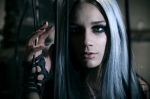 A few days before the release of their sophomore album "Breathe In Colours", FOREVER STILL's mastermind Maja Shining agreed to answer some questions about it!

SBM: Hello Maja! Thanks for answering our questions. First of all could you introduce the band and yourself to the readers?
Maja Shining: It's my pleasure! I'm Maja Shining, vocalist and songwriter for Forever Still. Forever Still is a modern rock band from Copenhagen, Denmark.
Ok thanks! And your second album "Breathe in Colours" is about to be released. Did you have a special pressure for this one? I know that the second album could be huge pressure as it's the one which confirms that you're a band worth the try.
Honestly, no. The 'notorious album number 2' or the pressure of having it live up to its predecessor, was never a thing that worried me. There'll always be people, who love or hate what you do, but if you truly make something you think is great and you don't compromise on anything, you won't mind, if it's not going to be everybody's cup of tea.
The cover of the record is quite unusual and apparently it gets a lot of hidden ideas, such as the binary code message... Can you tell us more about the concept of it?
We decided to go with a more sombre looking album cover to really emphasize the contrast of the colourful binary code behind me. We thought it was important to have the contrast of something warm, personal and human to the cold, cynical and digital world, because that's what the different facets of the album are too. You'll get an even closer look at that once you open up the album booklet.
I have to say that naming your album "Breathe In Colours" with a gloom colourless cover is quite funny!
At first glance the cover art does appear quite dark and gloomy, but in reality it's bursting with colour. Just like the real world - sometimes we just have to look really closely to actually see it. In reality the binary code behind me (more commonly known as 'computer language') spells out all the colours in the world and at the same time, it's a reference to the world becoming so digital and people escaping into their computers to find happiness instead of finding it in the real world.
Your music is quite heavy, industrial with some melancholy and anger. Is it really what the 2019 world inspire you?
Yes and no. The initial inspiration for the album came one evening, when we were watching the news and realised how much the problems we are facing right now resemble those of the dystopian futures, we read about as kids: The government in the pocket of big companies, the serious issues concerning climate change and the media preaching fear and driving us further away from one another. Despite that, there is a very positive message on the album - like the cover art, you just have to look a little closer to find it.
Where do you take your musical inspiration?
We have always been inspired by a wide variety of musical genres and I think, we let some more of them into this album. We ventured into some post rock moments on a song like "
Breathe In Colours
", some pure electronic moments on "
Pieces
" and even some djent-inspired moments on a song like "
Embrace The Tide
". The overall sound has definitely gotten more raw and electronic, while we've held onto the big, catchy choruses we both love.
Do you get your inspiration thought personal experiences or also movies or books ?
Everything about the music has been very personal from the beginning, so that has always been a big part of our inspiration. We've always taken a lot of visual inspirations as well, movies and books being some of them, and when we had established the dystopian theme for the album, we went back and looked at what they had imagined 2019 to be like back in the 70s and 80s.
It was a very grounded and gritty view of the future not the shiny and idealised version we'd seen in other works. It had a low life/high tech aesthetic that really spoke to us and we wanted to capture that in our music as well.
You're apparently a two person band, isn't it hard to do it all by yourselves?
That's just how we started the band. Mikkel and I met each other at a concert and shortly after began talking about making music together. We had both been in other bands before that failed, because everyone wasn't on the same track and we didn't want to make that mistake again, so instead we decided to work with different live musicians throughout the years to help us bring the music to the stage.
It's been super inspiring to have others help interpret, what Mikkel and I have spent countless hours creating in the studio.
You hired your live drummer Rune Frisch for recording drums on that record. Why have you changed your mind ?
It was not about changing our minds, as we've never been opposed to working with other people in the studio. We didn't know Rune, when we made our first record, but after having him be part of our live band since 2016, we've become very close friends and I love the energy and nuances he
brings to the songs live, so it only felt natural to bring him into the studio to add some of that to the new record.
The great strength of the album is your interpretation of the songs. The energy she delivers of "Fight!" or the huge emotion on "Is it Gone?" is really mind blowing. Is music composed for your voice or is it the opposite?
Going with the two examples above, "
Fight!
" was started with some instrumental pieces from Mikkel, which inspired the melody, I've created for it, whereas "
Is It Gone?
" started with a vocal melody and basic piano chords, where Mikkel created the instrumental universe around it. I think that's the main reason everything works so well together and the different pieces lift each other up, because they're inspired by one another.
I know that there's no tour planned yet but do you have any plans for 2019?
Absolutely! We have a lot on the table for 2019, and tour plans are definitely one of them and currently in the works. We'll post them to www.foreverstill.dk and our social media as soon as they're official. We're looking forward to visiting and revisiting a lot of European cities in 2019!
I guess we've reached the end so I leave you the final words if you want to conclude or leave a message to your fans.
Thanks so much for the amazing receptions of our first two singles, "
Rew1nd
" and "
Breathe In Colours
", we can't wait to share the full album with you and see you all in France this year!
Thanks for your time Maja!
Thank you
Vues : 1855 fois