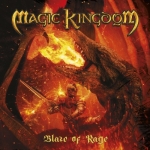 Interview
AMON AMARTH ( English Version - 2016) - Johan Soderberg (Guitar)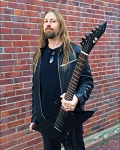 After a lot of technical problems with the phones, I can finally talk with Johan (guitarist of the band)
Are you excited about the concert in Le divan du monde ?
Yeah, I mean we've been not touring for over a year so it's really great to be back out on the road !
How is French audience ?
Oh, french audience is very very great ! I really like to play in France.
You said in other interview that your new album Jomsviking, out the 25th March is one of your greatest album.. Why ? Why is this album is so special ?
We always try to do all by ourselves each albums, and we always try to make different things, in this album we've been writing almost all the songs.
So, as we know, Fredrik Adnerson leave the band in 2015, who will be the new drummer ? Have you already an idea ?
I mean we had a good drummer for the register and writing part and we are doing this touring with this guy but he's not for touring so we're going to make it and we will see ! So we're not sure of who's going to be the new drummer.
As the Jomsviking… are you hiding your fears about the audience when they'll discover your know album ?
No, we feel really confident about it! We are really happy with this and I'm sure they'll recognize the thing we use in each albums.. So yeah I'm not nervous I'm more looking for this reactions !
In the cover of the new album, there's again the same character, does he represent something in particular for the band ?
Well, it's not really the same character, in each albums it's a new character. In each album is another one almost the same, but in another "mood" unfortunately it's different. This is the main character of our story.
Have you appreciated your duet with Doro Pesch in the song A DREAM THAT CANNOT BE ?
Yeah, I mean it was a new sort of experience for us. It was our first time ever we use a female vocal on our songs. The story of our song is about a strong female character and It make sense that in that song we needed a strong female voice. When we were looking for this female voice we called her and she was in London and said yes immediately and then came to register the vocals in the studios.
There is another artist you would like to work with ?

I mean yeah it's always someone to try something new you know, but there's not something we provide a long time ago you know. I mean we have the songs but we don't know yet what to do with it. Which person to have on it. We do it when we are in that songs, not before you know.
Have you an anecdote to share about the recording of the album ?
Well, we made videos during the recordings and It will be like a making off you know.
This is the end of the interview.. Something to say to French fans and readers of SDM ?
Yeah we are really looking for to go back soon in France and meet the audience in front of stage, yeah we'll do all this soon in Paris like for the release of or album ! Hopefully we're looking for to meet all of you soon ! And thanks you !
Vues : 1466 fois