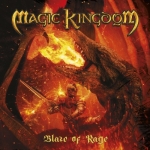 Interview
SERIOUS BLACK (English Version - 2017) - Urban Breed (Vocals)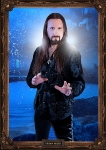 Tell me about the name of the band, how did you choose it?

Thomen Stauch, a big fan of the Harry Potter series of books, suggested it. After a lot of debate the vote was in and it had won.
Bob Katsionis and Alex Holzwarth join the group, how is it going all together?
We have a very productive collaboration within the band.
Did you take all the time you needed for this album?
One album by year it's alot of work in a short time. We took all the time we needed. With multiple songwriters in the band we can produce a lot more than you might imagine.
How did you choose the «main theme» of the album Magic?
I assume you mean lyrical theme and by extension concept. I had been thinking about making a story involving a character driven by something that had happened to him/her in the past. When I came up with the words and the melody for the chorus to Serious Black Magic during the Mirrorworld tour it all fell into place.
Who wrote the lyrics ? What was your inspirations?
I wrote the lyrics and the inspiration to it all is mostly drawn from real life. People I've met, people I've heard about, what experiences I have had and been told about.
Did you have great reviews of the first Listening Session?
Oh-yes! It was an absolute pleasure for us to share this album with those present and I think it's fair to say they shared that with us.
How was the recording session of the videoclip?
Can we know wich song is it?
I am sorely tempted to simply answer «yes» to the last question. We had a lot of fun on the set. The crew and the actors and actresses were all such wonderful people. OK, OK, it's «Serious Black Magic».
Have you already ideas about the next album?
I have already mapped out the lyrical content and prepared a suggested direction for the artwork. We'll see how it goes.
You already annonced dates for the tour, excited?
More to come? We are very eager to hit the road and make these songs come alive live. I think it's safe to say that we have a great relationship with our audience and so we are indeed excited. More to come, I'm sure.
Some groups you're listenning to at the moment ?
None at all. It's not that I never listen to other music. It's just that I have been quite busy working on music. The last thing I listened to, that wasn't music I was working on at the moment, was « That's the Way it Is » by Celine Dion. (And then I probably played it at least five times in a row. Yeah, yeah... I know...)
That's the end of the Interview, I let you say something to readers and fans…
Do come see us on September 14th at Le Ferrailleur, Nantes or September
17th at Le Rat´s, Puget-Sur-Argens, France. Or why not both?
Vues : 138 fois