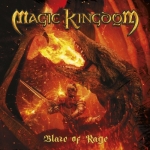 Interview
FREEDOM CALL (2012 - English version) - Chris Bay (lead vocal - Guitar)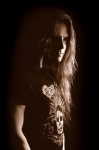 Hi Chris, first of all thank you to take the time to answer. It's a real pleasure to make another interview with you. The last one was in Paris during your tour with Gamma Ray. Do you remember that crazy snow?!
Hello Lionel, great to meet you again!!:)...o yes, beside that I always like to think back on times we' were spending in Paris:) , I can remember well, that it was heavy snowing and a blizzard was coming down to the city!.
Usually we're used to have a more comfortable temperature in France than in Germany:)
The three last years were pretty busy for you and Freedom Call. You were back with an amazing concept album, you made a big tour and you released an incredible live DVD, recorded in Hellvetia. What are the feedbacks for this first live DVD ever in the band history? By my side I was so excited about the feeling we can feel while we're watching it, same as on stage: just awesome.
Indeed, the past years were full of work, but the result is, that Freedom Call is running better than ever before!!
The reactions of fans and press were awesome, and we were happy to show all people how much fun you can expect from a Freedom Call live show:)
I think we also could prove that Freedom Call is born to be a band in a headliner position!
After lots of tours as a support ing band, or special guests, which we won't miss...but the time has come to be apart and to be the headlining act.
But we didn't rest after this tours, so we went on to write new songs, were producing the new song material and now we're proud to introduce the new album "Land of the Crimson Dawn" soon., which will be out on 27th of February!!
The bonus DVD is good too. Watching you on tour, having fun, or giving us some specials unplugged versions of some songs next to a campfire, what a good idea!
Thanx at first for your laudation:) That was really fun to film this Bonus DVD!! The atmosphere into the and under the members is brilliant and the DVD is a good media to bring this good mood to the people.
Some people asked me to release a song book with all Freedom Call songs as unplugged version!!:))
Obviously they like it.... good idea, but I prefer to perform with my friends, the band!
This year you are back with a brand new album, which is really particular in the band history because Dan Zimmermann is not in the band anymore. What were your feelings during the writing and recording sessions?
Dan was not only a band member, he's still one of my best friends! Of course I was missing Dan beside me in the beginning of the songwriting process and the production. But then I had to learn to "swim" by myself.
On the one hand I had to learn to write the songs, to arrange and produce without the support of Dan...on the other hand we could get rid of the rumor that Freedom Call was a project of Gamma Rays drummer!! Freedom Call was always a autonomous band...never ever a project! But with the new album we'll prove it!!:)
What contributions are doing the other member on the writings? I mean, is it a one man band for the writings or is everything shared?
The most of the songs are written by me, because I had like a "creative explosion" after touring a lot last years...but also Lars, our guitarist, and Samy, the bassplayer wrote songs for the new album.
That feels good, to create a bands performance...we really worked very tight and united as a team.
The new Freedom Call era is started with a killer album, with various themes and also various kinds of music but still keeping the Freedom Call's spirit. Like "Rockstars" which is for me certainly the most surprising and on the best song on this album.
Thank you, that is a great compliment...I agree, we didn't copy any of our previous work, we created a big step forward in Freedom Calls being, BUT we keep our spirit...that is the most important element!
I love the song "Rock stars" as well very much and this song will be definitely part of the set list of the new live program for the upcoming tour:)

With a song, you're back in the early years. You know that "Back in the Land of light" is certainly view as a tribute to the "old" years. What a great feeling!
He, he...I see you noticed:) This song was the first idea I had for the new album. Maybe "Back into the land of light" is pure emotion , while thinking back to long tours and great time we had with the band.
You have chosen "Rockin Radio" as the single to promote the album. The introduction is so funny, and then we're going on the famous happy metal wave
.
Rockin' Radio is Rock'n Roll!!! This song is a dedication to all radio stations which are not caught by commercials and sponsoring! For all the radio stations which are keep up the flame of Rock, Metal and other good things:) We love to play this song live...it really kicks ass!!

The song "66 Warriors" has an interesting intro too before going into a spectacular power song mixing dark and epic music times.
Yeah, there are not only the knights of the mid age, or the samurais existing...there are also warriors in the third world and the whole universe:) I love the sound of the word "Warrior"!! Very epic...but after writing this song, probably I should stop to use the word for the next albums in the future...he, he
In the other side we have the song "Hero on video" which sounds more pop or like a Bangles' cover with that kind of sound and happy feeling with the choirs.
The main topic of the new album "Land of the Crimson Dawn" is the virtual world in cyber space or the world of warcraft..."Hero on Video" is a funny song about these kind of games. Don't take the games too serious...maybe you can obtain more power in your game while listening this song:)
What about World of Warcraft? Are you a fan? "Space Legends" get some interesting lyrics and a killer solo too.
No, I'm not a real"fan" of these games, I still couldn't find the right time to be involved in this world of war craft...but generally I like the feeling being in a different world out of reality. It's a good opportunity to escape for awhile. The song "Space legends" is written by Samy, our bassplayer, a great song for this album!
The other good point of the album is that you're still trying to go on some new music directions, giving to the listeners some more stuff to discover. I mean you're mixing power, heavy, dark happy and heavy metal all together and the result is just perfect.
Freedom Call is always combining different influences into one album. I think that is one of FCs trademark. For example the songs"A Perfect Day" of Legend of the Shadowking album, or "Far away" of Dimension album were very colorful expansions of "Happy Metal":)
We're really enjoying to mixing different styles in our music.
Especially on stage we're very thankful for this big collection of different songs...nothing would be more boring than playing 90 minutes only in 160bpm in the same style...
To celebrate this album, you have also a special edition with a special disc which is including some covers from different bands of Freedom Call's hits. Who have chosen the bands, and the songs they will cover?
O yes, that is a great thing!! I just asked a couple of bands we played with in the last years,if they want to be part of the new Freedom Call album.
All these bands loved the idea from the beginning on and each of them picked out a Freedom Call song and covered the song in their individual version.
All our friends did a great job and you can expect 6 brilliant killer cover versions in high quality sound.
As my last words, I just wanna say that with "Legend of the Shadowking" you kicked my ass, but with album you beat all my expectations and this certainly the best album you ever done with the band. Even if I really like the "Eternity" and "Cristal Empire". Thanks a lot and congratulations.
O man, that are great words, thanx a lot for this!! I really appreciate...
We hope that all our fans and friends will like the new album as well and we can't wait to introduce the new songs live on stage!! Hopefully we can come to france soon!!
This is the end of the interview. Feel free to conclude, and all the best for the upcoming tour and everything.
I thank you very much for the interesting questions, it was fun to answer !
We're happy to have such good friends which supporting Freedom Call on their way to the glorious « Land of theCrimson Dawn »:)
all the best and cheerz from Nuremberg/Germany
Chris Bay
Vues : 1878 fois