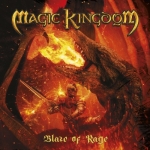 Interview
CYHRA (English version - 2017) - Alex Landenburg (Drums)
Nothing's better than having an other interview with such a nice guy as Alex is. Always smiling and really friendly.

Hi Alex, how are you doing ?
A: Iím doing great, thanks! How are you my friend?
Already two years since we catch up for the last time. Timeís flying so fast.
A: Tell me about it. It feels like New Yearís Eve was just five minutes ago and here we are talking to each other in September.
A lot of things happened during this last two years.
You appeared in the ĎUniversal Mind Projectí first album in 2016, and earlier this year two things were announced in a couple of days (middle of march exactly). First, you were announced as the drummer of a new band named CyHra, and straight after that, an announcement about the fact you were leaving 21Octayne to focus on some other projects. So I guess, it was for Cyhra, isnít it ?
A: Yes, I ultimately left 21O to focus all my attention on Cyhra. But I would have left 21O regardless actually. We just had a very different idea about how we wanted to develope the band business wise.
In 2016, we were able to see that you met Jake E during the Rhapsody tour. He also provided one live pic we can see on the Rhapsodyís live album booklet too. Is where your collaboration started from ?
A: No, at that point we had already decided to make this a band and really work together.
Jake and I have been friends for years actually and I always thought it would be great to also work with him on something musically. The first time I heard some demos from what was going to be Cyhra in the end, was during our first European tour with LT Rhapsody for Prometheus.
Jake sent me some demos and I was hooked immediately.
With Cyhra youíre joining a new buzz band, not to say super band, with high quality members from Amaranthe and In Flames. What did make you choose to join the band ?
A: Honestly speaking, at this point of my career and with regards to how difficult it is to establish a new band, I didnít think I would involve myself in anything like this anymore. I donít mean projects, but a real band, that you focus on and that you make a priority. But itís like after a breakup, when you tell yourself you canít fall in love again and then one day, when you least expect itÖ.boom, itís there!
Everything about this band, was so great, that I simply had to do it. The music, the management structures and most importantlyÖ.the people. I love my bandmates, we are so much on the same page musically and personally, it is fantastic.
Jake seems to be the mastermind of the project, doing a lot of promotion through the social medias , getting the attention of a lot people. As well as he seems he wants to get close to the fans as we were able to see while he was in N.Y for the recording sessions.
A: Jake was the one to initiate the band together with Jesper and he certainly is one of the hardest working people I have ever seen. Due to the distance, we work in blocks of about a week or so each, and every time Iím over there Iím just amazed at what he does.
And yes, we are all not afraid of people, quite the opposite actually. I love getting first hand reactions from fans and fellow musicians. As difficult as the modern age is in other aspects, this is something I wouldnít want to trade.
A few days a go, the band released the first video, and also revealed the album details. What are the feedbacks from the first one ?
A: The feedback has been amazing so far. Of course, with a band like ours, drawing from a number of different fan bases, you canít make everybody happy. But so far so good, the feeback is really great!
Compared to what you have done before, this album is more mainstream, and we can easily feel Jakeís touch on the writings.
A: Yes, I agree. Jake has a great touch on songwriting and melodies. I have always been a fan of Scandinavian bands, there is just something about their songs and melodies. It must be something in the water. Or maybe itís the Snus, who knows?
It was - aside of our friendship - mostly that what made me want to join in the beginning.
I just fell in love with the demos already.
Of course, within this mainstream line there are songs like ę Heartrage Ľ or ę Letter To Myself Ľ which are more powerful, or even songs like ę Holding Your Breath Ľ.
A: And I guess this is the real strength of this record. The diversity musically speaking, while every song is really catchy and has some hit potential. You could basically pick a single randomly.
But still we managed to have so much musical details going on. When I originally prepared for the recordings, I thought I would keep things much more simple due to the mainstream quality of the material. But - and I have to also give some credit to one of our producers named Jakob Hermann here - my bandmates and Jakob really encouraged me to let things flow creatively on this album. So while probably being the most mainstream thing I have ever done in a way, it still has some of my absolute favorite drumming moments on it. And certainly my best drum sound ever.
On the song ę Dead To Me Ľ the vocalí opening / ending are done in a rap vein, a little bit like Within Temptation made with XZibit. Can you give us more details about the choice please ?
A: This is a very personal song to Jesper and the spoken words just add to that and give it a really intimate feeling almost. And again, in context of the rest of the record it just works perfectly. The spoken part was done by a friend of the band, Charles Corletta.
You already have some gigs planned in Finland as Headliner with only one album. How will you manage that ?
A: Lots of breaks during the songs, 30 minute drum solos and maybe Jake can also tell a few jokes. No, but seriously, we just rehearsed a week and played the set a couple times and with intro and maybe a small drum solo or so it really feels like a proper show.
Some plans for France ?
A: There are no set dates yet, but we will play in France, thatís for sure! You know how much I love playing in your country!
Being in such a band and also in LTís Rhapsody, wonít it be too hard to manage to be on tour with both of them, even if we know that for now Lucaís touring a lot for the Rhapsody Reunioní farewell tour ?
A: Well, this situation is nothing new to me. In the end, it usually works as all tours and gigs are prepared for months ahead.
Letís go a little bit way out of CyHra now if you donít mind.
Can we expect a new Universal Mind Project album ?
A: Iím sure there will be another one, but I canít say for sure whether or not I will be involved.
My focus is on Cyhra now anyway.
You stepped in Kamelot for helping them for their Iron Maidenís opening show a couple of months ago. How did you feel when the offer came ?
A: Ok, hereís a story that I actually havenít told in public yet. In 2003 I was approached by Kamelotís management to step in for Casey because he wasnít able to do their European tour.
Their live keyboardist at the time, GŁnter Werno, had suggest me to them.
The decision was between me and Alex Holzwarth and due to my lack of experience at the time, they decided to go with Holzi.
As a young musician it was a tough thing for me, feeling a bit like that might have been my potential break. Also, I was actually a fan of the band, always loved their music.
So you can imagine, to get the call now in 2017 to step in for Casey and on top for such a big show was something really special. It felt like a cycle was closing in a way.
And we had a lot of fun I must say. I would do it again anytime!
Last question now.
Which album could be the album of the year so far for 2017 ?
A: Ours of course - Cyhra - Letters to myself ;)
Thank you for the time you took to answer to my questions Alex. Really hope to catch up with you as well with the CyHra & Rhapsody guys. Some last words ? Best
A: Thank you as always for the great and thoughtful questions. To my fans and friends in France, je vous aime! I canít wait to come back to France with either LTR or Cyhra!
Vues : 492 fois