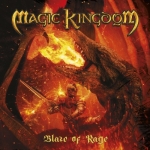 Interview
KONTRUST (English Version - 2017) - Mike Wolff (Guitar)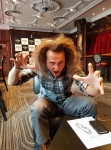 I heard that Agatha will be back on the group soon ?
Yes it's true, she's actually in pregnancy, she had a little boy two days before our concert in Paris so now she's a mom and she said she'll be back in the group in December but I think she'll probably be on the beginning of 2018 for the next album. In the main time we have Jule who works very well and who was really well received by the French audience too so everything is good !
Can you talk me about your next album ?
Yes so currently we are writing, if everything goes well we'll start recording around Christmas and new year and then I think we should be done in March the recording so I would say May or June for the release of the new album. It will be like we always does with a little bit more, this one will be more pop always with this typical melodies. For now we're collecting ideas, everybody want to put things in it but we can't do everything. I think that at this time we have 120 songs, one minute pieces and we have to figure it out what to do with it. I've always loved those moments because you really do music, you're not travelling, waiting and that's cool, the fun part.
It's been 10 years that your video clip "phono sapiens" were release, what do you think about it now ?
10 years.. Well, I always think that's super cool ! This song has a story and all the songs didn't have one but this one did. I really loved this. Musically I think that we changed a lot because we were more in a new metal style which was really popular at this time and now I would say that 3 album later we have our own style but still crazy. That's what we do when we are on the road, we're listening people reactions, feedback after concerts and we try to help us with them for new ideas.
You're doing funny video clip, why not one about "Sissi" ?
Honestly it's interesting because you're not the first person who ask me this question. Before the new album we will upload a new video song of our last album EXPLOSITIVE and we think to do something about Sissi with, of course, the traditional fits of this period. Something crazy as usual. We've been on the place where Sissi was supposed to live last year and we have actually talking with people to see I we should capture the video here so we'll see but it could be something fun!
How did you had the idea of the song "sonck'n'doll" ?
This song was weird because it was 3 different songs, 3 elements of songs we couldn't place anywhere. We had an all album and there was still those three ideas. We work around each parts and tried to do 3 different songs but It doesn't works. So we decided to put it all together because it could actually works, so we changed a little bit the tempo around and there's a lot of influences in this song. It's probably one of the most diversified and progressive song. And the idea for the socks on the video come along because we thought ok we want to do something with the audience but we saw this kind of videos a million times before. We wanted to call the song rock'n'roll but we loved sock'n'doll and that's how the video idea and the song come together. The song was actually the hardest part. We build everything for the video, the stage, the socks, I remember them were making 200 sock dolls. People were sitting on their knees, everybody has their socks on each hands and it was so hot, it was fun ! very exhausting but I think this is one of the best video we ever done because nobody else done this with socks.
It's been 15 years since the band exist. What's your secret to be always so explosive after all this time ?
I think that the most important is that we really enjoy what we are doing. We're not only a band we all have job somewhere and when we are together we always have something cool to do. We always try to picture ourselves as a fan, if I was a fan what would I like to see. And I think they would see something different and crazy. With Bomba we had the all thing with the traditional clothe and song and people like it and we said ok that the two things with the traditional and us trying to be a little bit crazy. When I go and see a big band, when you meet them before the show they are quiet, relax and then they go on stage they're doing the show and you're like wow ! When I'm outside and I meet people I'm not just me but I represent the band too and this energy we have. As long have we have this energy and enjoying that this band won't end. We're always trying to be explosive and that's the main theme of Explositive, we're always trying to push up the limits of craziness and fun !
How was the DOWNLOAD ?
When we came in we were all interesting to see how it will turning out because we never played in France before. We got there and we had to do the soundcheck immediately and it goes so fast, we didn't had the time to focus before the concert, we had to go on stage. We were waiting and it was full, people were screaming and calling the band name and we gone on the stage and.. there were beer, police officer, people body surfing and I think it where like two accidents with broken noses it was a great first concert. People were actually singing the songs and knew the lyrics we were like ok wow this is so cool ! so we thought let's do it, let's do some concerts in France, people seems to like the band and it was a great audience to figure it out ! So we have three concerts in France this December and we are really looking forward to that, tickets sells are very well too it's really nice place to play so yes the download very amazing !
You'll be in FRANCE again for 3 dates in Paris, Lyon and Strasbourg. What would you to convince people to come at your concerts?
First of all it's going to be evenings with very energetic and crazy band on stage, there's a lot of interactions between us and the audience. When people will walk out after the concert they'll be exhausted and happy like after good sex. We're working on the show right now, with some surprises and we are really looking forwards to see a great audience that we will encourage to
have a great party night. It's not just a concert it's going to be a party, everybody who'll be there should have a lot fun, that's the main idea !
That's the end of the interview, I let you say something to readers and fans…
First of all thank you for having us, thank you for this great interview and thank you to the French audience to be so supportive ! thanks to the French we discovered since June, really for everything.
We are looking really much forwards to play here again in December for a crazy crazy party !
Vues : 113 fois